The Kampf Conslit III is the recent update to the well-known and bestselling Conslit series. This new edition promises better reliability, trend-setting technology and great customisability. At A.Warne we have very recently acquired one and have been putting it to good use on our factory floor. But does it deliver? If you want the short version: yes, it does. But read on to find out why!
Precision engineering from Kampf.
Kampf Machinery Corporation, the manufacturers of the Conslit III, were originally a Germany-based company, first establishing themselves in the U.S. in Nashville, TN before moving across the country to Enfield and then Windsor CT. They are a world leader in innovative technology in BOPP and BOPET film manufacturing, as well as tech for converting all sorts of materials from paper to aluminium foil. If the Conslit III is any metric to go by, they really are at the cutting edge of technology in our market – if you'll excuse the pun.
Kampf have been a well known company in our industry for a long time. They and their machines have a great reputation, so we weren't nervous about adding their latest product to our lineup. Smarter, faster and more efficient. We believe that the Conslit III lives up to the hype. The Kampf Conslit III keeps things simple for us. It's much easier to maintain than our old machinery, meaning less downtime and more uptime. It's also nice and easy to use, sporting newly developed two touch navigation and easily accessible, simple controls. It's far more efficient than its predecessor, and makes our business speedier and safer. To get down to the nuts and bolts, the Conslit III has several new technical advances that make our job simpler, easier and safer. A new winding system, ConCert, keeps the finished product perfect time after time. It maintains perfect material geometry, as well as web length. There's also the I-Set automatic knife positioning system which does away with manual adjustment, reducing the time it takes to set the machine up as well as keeping things safer. Kampf describe their new machinery as having the highest possible level of automation in our industry, not only making things easier of us, but also helping us to deliver outstanding results reliably.
Another new system introduced with the Conslit III is named X-Cut. X-cut is an automatic crosscut and splice system. In simpler terms this means that the material web can be spliced with a new core quickly and easily – again reducing downtime. With this system in place the Conslit III can work through 1000m of whatever material you feed through it in a minute.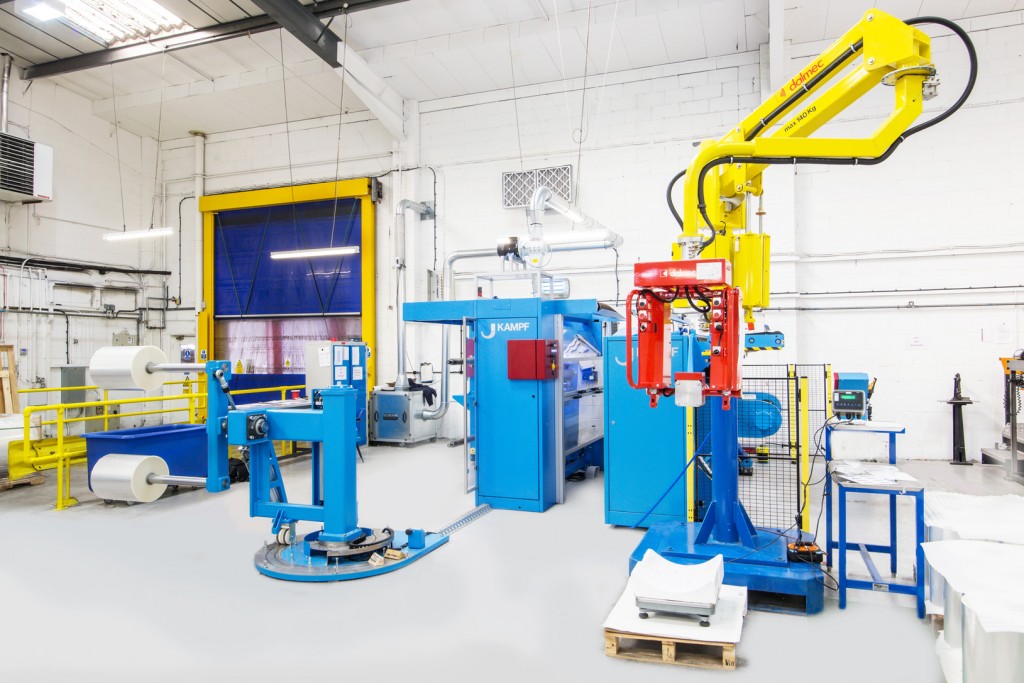 What does the Conslit mean for us and for our customers?
All of these advances fit well with our vision at A.Warne. We pride ourselves on our stringent quality control standards, and this latest addition only helps us to meet our aim of being the best in this regard. With the Kampf Conslit III we can commit to not only making more product, but also product of a higher quality. The introduction of this new converter complements our Surface Inspection System so that we can have the highest quality product on the market.
The set-up times for parent roll positioning, slit pattern setting, core positioning and finished roll handling are all hugely improved. This means that we can not only produce the highest possible quality, but we can now do so faster than ever before. It's not often that you get to increase both quality and quantity, but with the Conslit III we are able to do both!
We have 87 years' worth of experience in creating innovative solutions for our customers, but we also pride ourselves on the breadth of service that we provide for our clients. The marketing for the Conslit III emphasises flexibility and modularity as 'the key characteristics' of the product, and the machine itself certainly provides us with solutions not just for plastic, but also for refined papers, adhesive tapes and laminates; the Conslit is so flexible because of its wider processing windows and an automatic linear guided winding system. In simple terms, it can do anything and everything that we would want.
It's just another reason why A.Warne is the UK's no.1 plastic films converter.