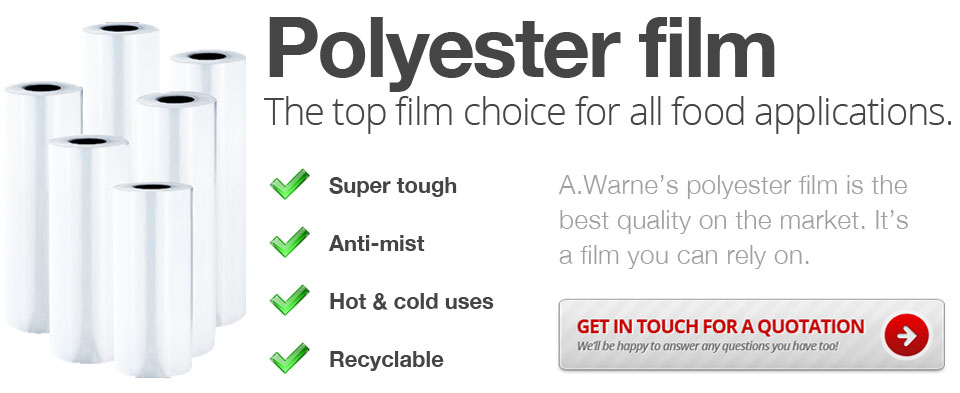 PET film overview
A.Warne provide and convert some of the highest quality PET film, also known as polyester film, on the market. Unlike some other polyester converters we will never compromise on quality to offer a cheaper, 'second grade' option. It is this principle of quality that has given our PET film its reputation of excellence.
The inherent toughness of  PET film combined with the scratch resistance of its coating means that faster machine speeds are achievable over alternative window patch films. Its ability to withstand great temperature differences means that PET film is as comfortable in the freezer as it is in the oven. Our PET film has very low moisture vapour transmission rate, giving increased shelf life; this, coupled with the anti-mist coating for chiller applications, means it has become the number one choice for sandwich cartons.
PET film food applications
The number one choice for sandwich cartons, PET film is used for hot and cold food applications, including microwave packs, window cartons of all types and freezer packs. As a leading polyester converter in the UK we supply a huge and diverse range of  PET film end users in the food industry.
PET film graphic arts and archival applications
As polyester sheets are easy to handle and adhere to, they are a popular choice for use in graphic arts and archival fields. It is often used for labels (plain or metalised), office supplies, book jackets, tape, carbon ribbons, screen-printing, protective coverings and laminates.
PET film industrial applications
Thanks to its thermal stability and outstanding tensile properties, even in ultra thin gauges, our PET film is used in a wide variety of industrial processes to manufacture tape substrates, book jackets, release sheets, office supplies, carbon ribbons, microfilm jackets, photoresists, roll leaf and much more.